PlaneShift Unreal Alpha Release 0.7.28
By PlaneShift Team, January 4th 2023 Write a comment.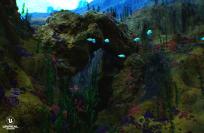 Hello friends, happy new year! What is the best part of 2023 until now? A new PlaneShift release just arrived. It fixes few important bugs and adds a swimmable Emerald lake area, with a hidden treasure! Go and find it!
Please note the previous game is still up and running, and it is still the master for all data, accounts included. During this transition period the progress will not be kept in the new game until we will completely migrate from the old game to PSUnreal. If you have an account already for the old game, it will work in the new game with the same password. New accounts need to be created here on our website and will be migrated to the new game regularly, please give it 4-5 hours to be migrated.

Windows, Linux and Mac are available for download.

Windows
MD5: 621432cf349a2dcd8c540b0288b0cba0

Linux
MD5: 30b5680de7ee798ca94dc9d4350ab60b

Mac
MD5: 16cd1c8c7fcae693a432228fd0aee940

Here is the list of changes for 0.7.28:

Completely terraformed Emerald Lake, added underwater vegetation, water bubbles, some fishes and first hidden treasure chest!
Added back a missing part of the terrain near to Emerald lake.
Changed the way NPCs are fighting. In particular we have now factored the physical size of the creature in the range used for combat. This improves the chase range and weapon range.
Added Lemur homeworld screens.
Fixed consumer and ghosthand missing meshes.
Added board minigame (was present in Legacy), used for puzzles or simple player games. It should be fully functional, but needs testing.
Added player names to the minigame board.
Fixed mouse wheel to separate the zoom function while in the 3d world, from the scroll function while inside a window.
Fixed right/left click going through windows and losing char target
Fixed spawning of objects like flowers/plants, corrected timers and spawning locations.
Items spawning now properly fall to the ground location. We should not see any NEW flower/plant spawned floating. Previous ones will have to be picked up.
Fixed problem of duplicate item spawning.
Fixed lava cave puzzle and multi sliding objects.
Added golden border to windows with no default border to allow easier repositioning of the window.
Fixed volumes of music when playing voiceovers. The music will now automatically lower itself when a voiceover is playing.
Removed wrong petition window message for players
Made progress bar moveable
Fixed all book containers in Jayose
More terraforming around Gugrontid stalactite to create passageway.
Fixed potion materials.
Fixed the Loading screen to be resolution independent.
Fixed dice minigame lights
Multiple fixes to maps.
Removed doll view from inventory window (was not working anyway).
Several fixes to the server side to prevent crashes.
Fixed a crash in pending invites (for groups)
Fixed a crash when renaming pet



All the bugs are tracked on our Flyspray, where you can register and add your findings.
If you want to support us, become a Patreon! Find other players in our Discord