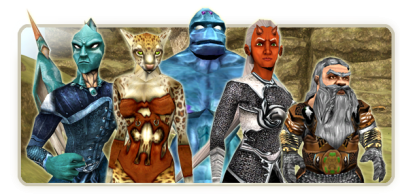 PlaneShift is a Role Playing Game immersed into a 3D virtual fantasy world, completely made and maintained by volunteers! Passionate RPG gamers gathered to create an open and freely available game. You will have no surprises of premium content which will limit your gameplay or unbalance the game. There are no limitations in skills, ranks, abilities, items you can gain with your free account. There are no time limits or additional constraints. Donations are gladly accepted. Servers and bandwidth are provided by sponsors.
PlaneShift is owned by Atomic Blue Inc. a US based 501(c)(3) charitable non-profit corporation we established. Our mission is to share resources about game development while building videogames, and educate people on how to work in a distributed team for a complex project, covering a wide range of expertise: 2d graphics, 3d modeling, programming, networking, databases, level design, game mechanics, story telling, ...
At the moment there are two versions of PlaneShift. PlaneShift Legacy and PlaneShift Unreal.

The Open Source version, also called "PlaneShift Legacy", has been made few years back, and its still fully available and playable and can be considered the "current" version. PlaneShift Legacy is Open Source for the client and server code. At the moment we are not expanding anymore this version, and the code is frozen to its current state.
PlaneShift Unreal is the new version made with Unreal Engine. This version is also now available to everyone, in an Alpha stage. We are in need of your help to make the game better!
If you want to help our efforts, see how to join our team here, or consider making a donation.
Both PlaneShift Legacy and PlaneShift Unreal have all the functionalities needed to be enjoyable to play, including combat, magic, crafting, and quests. The game has never been completely finished so you may find some bugs, glitches or missing features.
Today you can explore the virtual world, interact with other players or with server controlled creatures, fight monsters, cast spells, solve quests and puzzles, improve your character, gain magical items, craft new items and more.
Remember that PlaneShift is a Role Playing Game - be sure to read our Roleplay guidelines! We think the RPG part of the mmorpg definition has a meaning!
For the future version we will focus our efforts on the reproduction of a real world with politics, economy, improving the artificial intelligence of non-player-characters controlled by the server that will bring our world to life!
Our virtual world is persistent, and this means you can connect to it at any hour of the day and you will always find players and NPCs wandering our realms. You will be able to disconnect and reconnect again as many times as you like because your character is stored on the server, so you will never have to worry about saving the game. A player can start from humble beginnings and advance to greatness in whatever path they may choose.
You will use a client program to interact with our world that enables you to have a 3D view of the surroundings.
Here are some benefits for you in becoming a player and a fan of PlaneShift:
Planeshift is a great place to find new friends from all over the world!
PlaneShift is a virtual world where you've always dreamed of living.
PlaneShift is now part of history, being the first 3D MMORPG to be fully free for players.
Planeshift is a game made by roleplayers to bring you all the immersion you need from a virtual world.
A unique setting, realistic combat rules, great magic system.
No budgetary constraints will stop development of the world or prevent the addition of new ideas.
You have the option to live as an adventurer or as a normal citizen - both paths will be rewarded in the game.
You can submit comments, ideas, bugs and the dev team will take those into account in future releases.
Game features
The following list represents some of the features of the final product. Please remember that today PlaneShift is still under heavy development.
9 playable races with unique traits!
Unlimited professions through a skill system,
Original magic system with six Ways of magic,
Hundreds of spells,
Hundreds of quests,
Many cities and outdoors to explore,
A great number of quests to test your wit and skill,
Monsters and NPCs with good AI that produce game events,
A world that evolves with or without player interaction,
Create your own house or castle,
Politics and economy,
... and much much more!
Client features
3D graphics and sounds for an immersive experience,
Runs on all major platforms: Windows, Linux and MacOSX,
PSLegacy: OpenGL support with advanced graphics capabilities through Crystal Space 3D engine,
PSUnreal: Advanced graphics capabilities through Unreal Engine 4,
Easy interaction with other players through messages and chat,
Drag-n-drop objects between world and inventory,
A complex character generator, from birth to adulthood.
... and more to come!
Licensing
PlaneShift Legacy and PlaneShift Unreal are free for all players - you can download it and play it fully without any fees. PlaneShift Legacy uses two licenses. All source code of the engine is Open Source and under GPL. This means it can be reused in other projects. All the other assets are proprietary and copyrighted to Atomic Blue Non Profit Corporation and no reuse is allowed. If you are interested, please review the license and the reasons behind this choice. PlaneShift Unreal is fully copyrighted to Atomic Blue Non Profit Corporation.
Requirements
PSUnreal Minimum Requirements:
Windows 10, CPU Intel Core2Duo 3.0Ghz e8400
GeForce Gtx 650 Ti 2Gb card
4Gb RAM , HDD space 15Gb
Linux with support for Vulkan
Mac OS : not determined yet

PSUnreal Recommended Requirements:
Windows : not determined yet Linux : not determined yet Mac OS : not determined yet
PSLegacy Minimum Requirements:
Windows (2000, XP or Vista), Mac OS X 10.4.11, Linux (2.6 kernel, glibc 2.7), FreeBSD or Solaris
Radeon R200 (8500-9250), GeForce 4 Ti/4200Go series, or Intel GMA X3000*
2.4 Ghz Pentium 4 or Athlon XP 2600+
1GB RAM
1 GB free disk space
56k modem Internet connection

PSLegacy Recommended Requirements:
Windows (XP, Vista, 7), Mac OS X 10.5.8, Linux (2.6.27+ kernel, glibc 2.9)
Radeon R420 (X700-X850) or GeForce FX series
Intel Pentium D 3.0Ghz or AMD Athlon 64 3200+
2 GB RAM
2 GB free disk space
Broadband Internet connection

*Other cards may work but are not tested.
Policies and Rules
Please read our Policies to ensure you have a great experience in game, and other players have the same!!