PlaneShift Unreal Alpha Release
By PlaneShift Team, May 10th 2020

5 comments.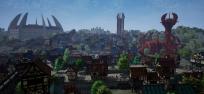 We bring some good news! Today we built our first PlaneShift Unreal Alpha release! It's not complete for sure, but the core is working and this is giving us a lot of joy and hope for the future of PlaneShift.

We started this journey with many doubts. We were not sure if it would even be possible to convert our game to another engine. Millions of lines of code to be ported. Hundreds of meshes, hundreds of quests, dialogues, sounds, etc... A big thanks to all the developers who made this possible! But please don't take this announcement as "its done", as it is quite far from done. There are still a significant set of missing features, and the most important part is that we need to test what happens with multiple players connected. At the moment we didn't yet optimize the game, and we have to identify as soon as possible any road blockers.
This is why we want to release the Alpha version to a limited number of people to help us testing it. This Alpha release has two main objectives:
- Catch the critical bugs which are crashing the server to ensure stability for the next phases of testing
- Test performances with multiple players connected
- Test performances on different hardware

For now we will start with a Windows release, shortly followed by a Linux one. For MacOSX we need a bit more time.
For the people who will test it: please report only severe crashes, other in game bugs like missing or not working features are not the scope if this first test. We know already many parts are not working.
We want to give back to the people who decided to support us, and so all current Patreons and all the future ones will get first access to the Alpha release. For everyone else you need to wait a bit more as we go through this first test.
If you are a Patreon contact us on Discord to get access.

Become a Patron!