PlaneShift Charitable Educational Organization
By PlaneShift Team, January 20th 2022 No forum post for this article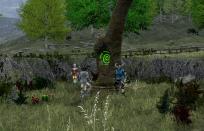 PlaneShift is owned by Atomic Blue Inc., a US based 501(c)(3) charitable non-profit corporation we established. Our mission is to share resources about game development while building videogames, and educate people on how to work in a distributed team for a complex project, covering a wide range of expertise: 2d graphics, 3d modeling, programming, networking, databases, level design, game mechanics, story telling, ...
During its lifetime Atomic Blue has created 1.1 million lines of open source code , provided a fantasy 3D virtual world for free open to anyone, created hundreds of wiki pages to document the game, the engine, the database, the scripting languages we use, provided more than 600 live streaming sessions totaling up to thousands of video hours, and provided coaching/guidance to hundreds of new developers.

We are happy to announce the Internal Revenue Service (IRS) has granted Atomic Blue Inc., tax-exempt status as a Charitable Educational Organization under Section 501(c)(3) of the Internal Revenue Code.

Donations and contributions are now tax deductible under IRC Section 170.

We are also qualified to receive tax deductible bequests, devises, transfers or gifts under Section 2055, 2106, or 2522. Please consult your tax advisor for eligibility.

We are proud of this recognition, which highlights the contributions we made over the years, and we hope it can fuel more funding to make our activities even more productive and successful!"

You can donate on Paypal
or become a Patreon member.