PlaneShift Unreal Alpha Release 0.7.13
By PlaneShift Team, September 18th 2021 Write a comment.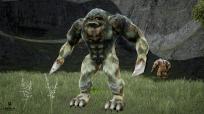 Hello PlaneShifters, the new Alpha release 0.7.13 is ready!! This release is a full release, so you cannot update it through the PSLauncher.
This release is open to all Patreons and to all veteran players of the previous game (200+ hours of gameplay). Thanks to all the ones who are supporting us and cheering for us! Your support is very welcome and is actually what makes us continue in this incredible journey through the years.
For Windows users, be sure you launch it with Administrator rights.

Here is a list of changes:

Character improvements. We did a pass to fix some of the more "blocky" old looking areas of our character models. This is not a remake, but just fixes where really really needed:
- Improvements to Male and Female Enki geometry, shoulders
- Improvements to stonehammer male, beard, eyebrows, shoulders
- Improvements to Male and Female Diaboli. Torso, shoulders, arms, shoes, ...
- Improvements to dermorian male and female geometry. shoulders, arms, legs
- Improvements to Kran geometry. Elbow, back
- Improvements to Ylian male model. shoulders, back, legs, shoes

Multiple outdoors fixes and additions.

Fixed position of monsters based on map changes
Fixed Xalpalock cave a bit to allow more space
Fixed arena entrance on both sides
Fixed gaps on the road to Amdeneir
Fixed wrong grass on top of Homestead buildings, fixed trees and position of stones
Fixed Blackflame level, adding missing assets

Added FPS limit to the settings panel. You can now decide the max FPS, it can be useful to lower the load on your PC when running PlaneShift

Removed the log line where your username and encrypted password were listed. Now you can safely share your logs.

Imported all music and ambient sounds from PSLegacy
Added new bird sounds
Added a new component which allows us to better manage randomized ambient sounds
Updated music and background ambience and specific sounds in different areas (not completed yet on all areas)

Updater program:
- Added detailed log window
- Added more log entries to detect errors
- Added the disk space check, telling you if you are low on disk space. In general you should have 10+ Gb of disk space available
- Added more error checking
- Files are now maximum 2Gb, which should improve the update process.

Improved Ulbernaut model geometry significantly, improved idle and idle variation animations

Fixed the issue where NPC was remembering you also after death
Fixed issues with pet being dismissed
For linux users, we added a potential fix for the Vulkan Driver DEVICE LOST crash

Fixed some commands to allow running GM events
Fixed /morph command for GMs to impersonate creatures

Added some particle effects (sparks) where present in Legacy
Added fall damage, need to be tested and tweaked

Added scrollbar to win quest for quest description and quest notes
Fixed the freeze in char creation history scenes
Added dermorian history scenes in character creation
Fixed a server crash in Emotes
Fixed a server crash in group functionality on disconnect

Some work has been done to improve the way tribes work, mainly in reproduction and building
The /harvest command now also accepts the full name of the object, so /harvest "Gold Ore" in addition to "gold". This is useful for our NPC Artificial Intelligence


At the moment Windows and Linux are available. For Mac we will create it if there is enough request.
All the bugs are tracked on our Flyspray, where you can register and add your findings.
If you are a Patreon you will find the download link on the website directly, if you are a veteran player contact us on Discord to get access.