PlaneShift Unreal Alpha Release 0.7.10
By PlaneShift Team, May 31st 2021

One comment.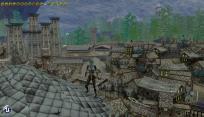 Yay! We made it again! Another PlaneShift Alpha release is out! Considering we changed the Unreal Engine version, most of the files are updated, and so this time its a full download. This also allowed us to recompile the updater itself to the new version of UE.

This release is open to all Patreons and to all veteran players of the previous game (200+ hours of gameplay). Thanks to all the ones who are supporting us and cheering for us! Your support is very welcome and is actually what makes us continue in this incredible journey through the years.
Here is the changelog for this Alpha:

- Added Klyros Female model!
- Added Lemur Male model!
- Added Lemur Female model!
- Added Ylian Female model!
- Improved character creation (still not complete) adding also some screens for homeworld stories
- Character creation now finishes with warp portal
- Added voiceovers to character creation (still need to complete all)
- Improved skill window to recognize abilities vs talents (/attack vs /ability commands)
- Improved shortcut bar to receive /ability talents
- Many improvements to compendium, like management of images, fixed icons, display of locked entries, fixed layout
- Enabled discovery of compendium entries through books and talents
- Fixed walking/run animation bug on Linux and Mac
- Map fixes to the Death Realm, should be easier to walk
- Fixed some combat crashes
- Fixes to hydlaa windowless tower
- Fixed to sewers to clear some unwalkable areas
- Fixes to merchant exchange window
- Fixed bugs on equipping items
- Reduced inclination/lean of character when sprinting.
- Fishing now uses a specific animation, fixed fishing rod equip
- Fixed some armor textures and icons
- Made more lights dynamic (this may change the overall light in the game, we need to test it more)
- Tweaked the Ynnwn model to become the Diaboli model, different skin colors and tweaks
- Updated Unreal Engine to version 4.26.2, this change is important for the next releases to enable new features (example better water) and to keep our project on the most up to date Unreal Engine.


All three platforms are available: Windows, Linux and Mac.
All the bugs are tracked on our Flyspray, where you can register and add your findings. You can report crashes and other in game bugs. You will also probably find many missing features comparing this version to the original version of the game. On these ones please do not report yet in Flyspray, we are aware of what is missing and will be added in future releases.
If you are a Patreon you will find the download link on the website directly, if you are a veteran player contact us on Discord to get access.