PlaneShift Unreal Alpha Release 0.7.7
By PlaneShift Team, January 13th 2021

5 comments.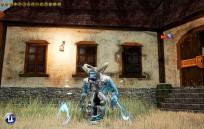 We are glad to announce a new Alpha of PSUnreal is available! Version 0.7.7. It is the third Unreal Alpha release after the one of November 2020, and there are a lot of new features and fixes.

This release is open to all Patreons and to all veteran players of the previous game (200+ hours of gameplay). Thanks to all the ones who are supporting us and cheering for us! Your support is very welcome and is actually what makes us continue in this incredible journey through the years.
In this new Alpha we fixed many of the visual bugs found by the players, fixing disconnected ground or holes you can fall in outdoors, completed many parts of the UI, fixed pretty much all chat commands, fixed the interaction with NPCs, so you can now complete quests. Fixed the ability to trade with other players, improved the settings in the client. Added the possibility to set audio volumes (from the login menu, not in game yet), first implementation of swimming (still bugged), added more animations, fixed harvesting, and many more!
The main purpose of this third Alpha is to have a limited number of people testing it to discover critical bugs. This Alpha release has these main objectives:
- Catch the critical bugs which are crashing the server to ensure stability for the next phases of testing
- Test performances with multiple players connected
- Test performances on different hardware

All three platforms are available: Windows, Linux and Mac.
All the bugs are tracked on our Flyspray, where you can register and add your findings. You can report crashes and other in game bugs. You will also probably find many missing features comparing this version to the original version of the game. On these ones please do not report yet in Flyspray, we are aware of what is missing and will be added in future releases.
If you are a Patreon you will find the download link on the website directly, if you are a veteran player contact us on Discord to get access.