PlaneShift Unreal Alpha Release 0.7.14
By PlaneShift Team, October 28th 2021 Write a comment.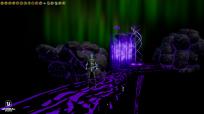 Hello Friends, the new Alpha release 0.7.14 is ready!! If you already have 0.7.13, this release can be obtained through the PSLauncher. If you don't have 0.7.13 you need to download it first
This release is open to all Patreons and to all veteran players of the previous game (200+ hours of gameplay). A special thank to all the people who are participating in our live streams, testing the game, and giving feedback, supporing through Patreons and donations! Your support is very welcome and is actually what makes us continue in this incredible journey through the years.
For Windows users, be sure to launch the game/updater with Administrator rights.

Here is a list of changes:

Updated Laanx Interior building: fixed railing, enlarged the upper wings, create a new secret room (closed for now), fixed Sharven position.
Enabled more ambient sounds in various locations
Fixed containers not to show content when locked
Various map fixed to remove holes in the ground or other non walkable areas
Fixed invite, leave buttons on guild window
Equipping a robe now doesn't cause plate arms/legs to disappear
Added new DrykenPlane map: when you create a new character, you will be teleported to the Dryken Plane, this is because your travel between your homeworld and Yliakum was interrupted, you need to solve a small puzzle here to exit
Added new Dryken creature
Added new UI to speak with Dryken creature
Added new DrykenPlane Shards puzzle
Created a new method for triggering achievements (example exploring cities). Not yet enabled at the moment, but working in our test environment
You can now select the mouse cursor graphics in the settings panel. It's an hardware cursor, so very fast.
Added Chat Logs configuration in settings panel. You can decide which tabs of the chat window you want to log, and also if you want to split certain tabs into a separate log file
Some fixes to Laanx temple geometry, wider upper level and added some particles
Fixed the character creation choices, adding new ones and fixing old ones. The char creation should be usable now.
Added a new summary panel, you can trigger it by clicking on the bottom right gem in the character creation, this is showing all the stats/skills you are gaining while making the choices
Stats/Skills in char creation, now have a mouseover tooltip with some information on the stat/skill usage
For the "Relationships" category in character creation you can select a custom skill
Fixed calculation of char creation cost options
Fixed several bugs with quests and NPC speech window
Fixes to NPC movement when reaching a waypoint and moving to the next one
Fixed fall damage (was actually enabled only for GM :) )
Removed fall damage from Dryken plane
Added Biography of character based on char creation choices
Fixed loading screens


At the moment Windows and Linux are available. For Mac we will create it if there is enough request.
All the bugs are tracked on our Flyspray, where you can register and add your findings.
If you are a Patreon you will find the download link on the website directly, if you are a veteran player contact us on Discord to get access.